Hey guys! I've talked before about how much I love Enviroklenz, and I'm still using their laundry products and air filters every day. You can read my thoughts in-depth by clicking here.
If you're interested in getting some of these environmental protection products for yourself, and supporting this blog at the same time, I now have a handy button at the bottom of every page on this site! When you order using that button, I get a little commission and every little bit helps me keep this blog up for you guys. Plus you get some great, safe cleaning products for yourself. Using stuff like this helps lighten the day to day chemical load you put on your body, which lowers your chances of MCS and other chemical reactions and helps keep you healthy.
I'm also going to put a couple of big banners in this post since we're here and they're cool.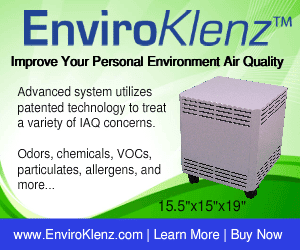 Ya need to clean anyway right? Plus, you know that I wouldn't put a permanent button on this website for any product I didn't believe in and use myself. I'm not going to sell out on you guys – this button is really here for you. I hate shopping for cleaning stuff. I read the labels to try and be informed and usually can't find a single thing with little to no harmful chemicals and fragrances. I don't have MCS or eczema (if you do then you probably already use things like these) but I've always been sensitive to fragrances products, especially laundry stuff. So yes, I really am using this and it really has helped me.
I promise to stop talking your ear off about it now! Just know that handy button will always be down there just for you the next time you need cleaners or air purifier stuff.
Love you all! And OF COURSE don't forget to make a rage comic and enter the #spoonieragecomiccontest! It's free and there's prizes! Go go go!