Life's not fair and people are often mad at you for things that aren't your fault. But one of the most frustrating and hurtful instances of this is when people seem to get mad at you for being ill.
Of course, many times this anger is rooted in love. Just like the day you yelled at your best friend for saying she'd come play with you and then canceling at the last minute, it's really disappointment being communicated in a destructive way.
But there are times when there's no love and it's just unfair. REALLY UNFAIR! Because it's not like you WANT to be sick or get special treatment or anything like that.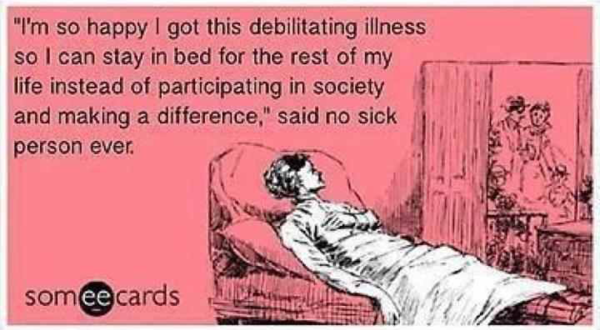 But enough people have called in "sick" to work for society to be suspicious of all illnesses, unfortunately.
I can't really cover all the times this has happened to me in one post. And I can't really blame the people who get mad at me, either. Heck, there are a lot of days when I'M mad at me for being sick! I get where they're coming from.
I've already written about the one time my sweet husband got angry with me for being sick. But I see that he was really just venting frustration with the situation. He, like many others who snap at me occasionally, was really mad at the illness inside me, not me particularly. Anyone ever watch Yu Gi Oh? I don't, but I watch LittleKuriboh's Abridged Series which I highly recommend. The early episodes are a little like wtf, but it gets sooo good. Anyway, on that show there's this guy who has the spirit of another guy inside him, and in the Abridged Series one of the characters has a crush on "Yugi's Sexy Alter Ego." It's kind of like that, but instead of having a sexy alter ego that everyone loves, I have an evil alter ego that everyone hates.
So I'm like Marik.
My parents sometimes get frustrated with me being sick. Or talking about being sick. My mom really wants to solve all the problems. She once came over and spent an entire day cleaning my apartment because she thought it would help me be sick less often. At the time I couldn't help but feel a little smothered (and slightly offended that she thought my cleaning habits are keeping me sick. I do try to keep a cute home.) but her intentions were nothing but good will. It's frustrating on both sides. We both just want me to get better, and it's very upsetting when I'm just not.
And I've had my share of professors who have given me a stern talking to when I fessed up to having a chronic incurable disease. You know, instead of compassion they offer a life-changing speech about how we need to step up to the plate, really work hard, give up laziness or partying or whatever the REAL problem is, and then we'll succeed.
Then there's employers. This is especially tough to navigate because they can really just screw your entire life over if you step a toe out of line. Of course not all bosses are that way. But even the best boss I ever had made fun of me when I told him I was sick.
If you don't get that gif, go watch a Very Potter Musical and A Very Potter Sequel right now!
And of course, at my last job, I got laid off very suddenly and with no explanation after mentioning my illness. Which didn't feel good.
I've seen other blogs say that it's hard for people to be around sick people because it subconsciously reminds them of their own mortality or something like that. But whether you look at it in the best light – "It's because they love me and they want me to be better," – or the worst – "IT'S NOT FAIR AND THEY DON'T UNDERSTAND!!!" – it sucks.
And while we're talking about life sucking, I just discovered Sherlock. I've lost sleep. Please just put out the next episode already, I can't stand John's suffering anymore.